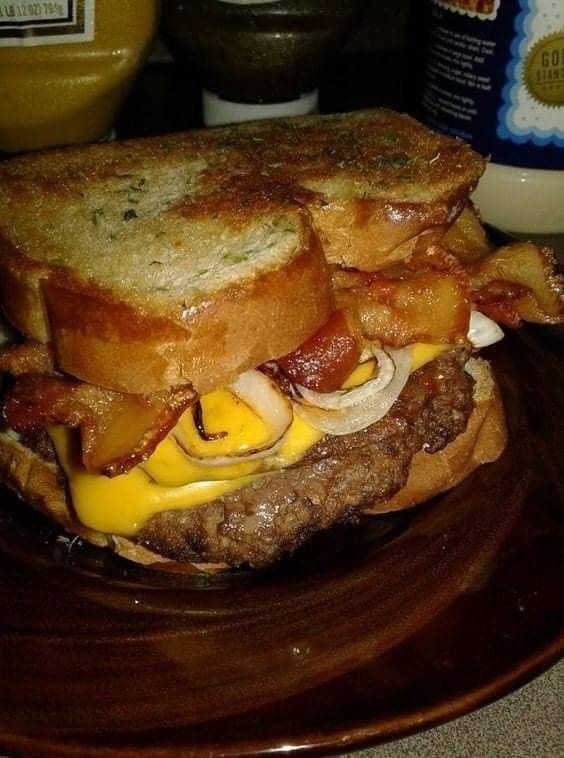 There's nothing like a big, fluffy stack of French toast for breakfast. And with this easy Big Mac French Toast recipe, you can enjoy all the flavors of your favorite fast food burger in a delicious and satisfying breakfast dish.
The results were amazing! The Big Macs turned into a delicious breakfast treat that everyone loved.
My kids were so excited when they saw me making them that they couldn't wait to try them. And let me tell you – they didn't disappoint!
So wanna feel like a kid again? This Big Mac french toast recipe is just what you need! It's easy to make and will remind you of your favorite fast food meal. Plus, it's a great way to use up any leftover Big Mac sauce you might have.
What Is a Big Mac?
A Big Mac is a sandwich made by McDonald's that consists of two beef patties, special sauce, lettuce, cheese, pickles, and onions on a sesame seed bun. The sandwich was first introduced in 1967 and has been one of the fast food chain's most popular menu items ever since.
Can this be made with breakfast sausage instead of ground beef?
Yes, you can easily substitute breakfast sausage for ground beef in this recipe. Just make sure to cook the sausage until it is well browned before adding it to the french toast batter.
⅔ lb. Ground beef
4 Slices of thick-cut bread
2 Slices American cheese
Half an onion sliced thin
1 tsp. Olive oil
4 Slices of bacon
4 Large eggs
½ C. Milk
½ C. Heavy whipping cream
½ tsp. Garlic powder
1 tsp. Salt
1 tsp. Pepper
Salt and pepper to taste
Big mac sauce (optional)
How To Make Big Mac French Toast:
Form the ground beef into two separate patties and season with salt and pepper to taste. Saute over medium-high heat until cooked to your liking. Remove and keep warm.
Add the oil to the same skillet and saute the onions until softened.
Cook the bacon until crispy and set aside.
Mix together the eggs, milk, heavy whipping cream, garlic powder, 1 tsp salt and 1 tsp pepper in a bowl until well combined.
Dip the slices of bread in the egg mixture and then toast in a large skillet over medium heat until crispy on both sides.
Layer some big mac sauce on the inside of the slices of toast if desired.
Place a burger patty on two slices of bread, and top with a slice of American cheese, some sauteed onions and 2 slices of bacon.
Place another piece of toast on top of each sandwich and serve.
Ingredients:
⅔ lb. Ground beef
4 Slices of thick-cut bread
2 Slices American cheese
Half an onion sliced thin
1 tsp. Olive oil
4 Slices of bacon
4 Large eggs
½ C. Milk
½ C. Heavy whipping cream
½ tsp. Garlic powder
1 tsp. Salt
1 tsp. Pepper
Salt and pepper to taste
Big mac sauce (optional)
Nutrition
Calories: 1083kcal | Carbohydrates: 21g | Protein: 71g | Fat: 78g | Saturated Fat: 34g | Polyunsaturated Fat: 36g | Trans Fat: 2g | Cholesterol: 621mg | Sodium: 2478mg | Fiber: 1g | Sugar: 7g
I created a fun channel on  Telegram and I would love for you to join us! It's a place where you can share YOUR favorite recipes, ask questions, and see what's new at Dinners, Dishes, and Desserts (so that you never miss a new recipe)! If you'd like to check it out, you can request to join HERE