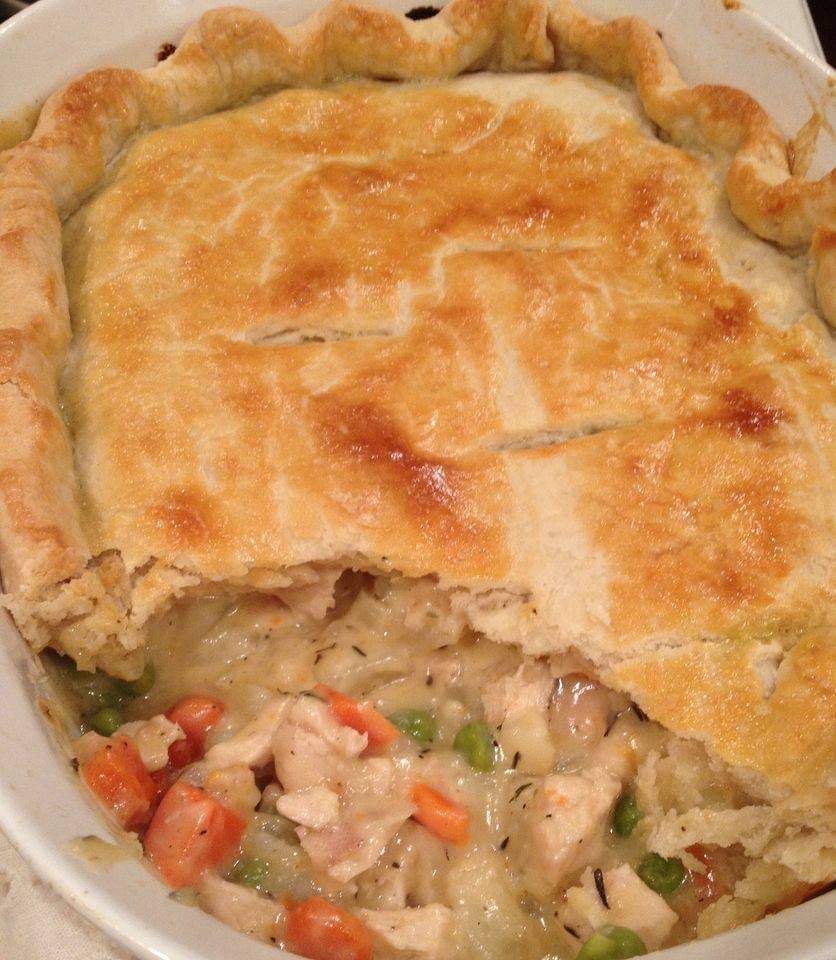 Ingredients:
1 Rotisserie chicken, deboned and cut into bite-size pieces
1 medium onion, chopped
2 tablespoons of vegetable oil
1/2 cup all-purpose flour
1/2 teaspoon salt
1/4 teaspoon pepper
1 teaspoon dried rosemary
1 teaspoon dried thyme
1 can of chicken broth
3/4 cup milk
2 cups frozen mixed vegetables, thawed
1 pack of frozen puff pastry sheets, thawed according to packaging
Instructions:
Preheat the oven to 400 degrees.
Unfold the pastry sheet on a lightly floured surface. Roll the pastry sheet to cover the bottom of a 7 x 11 baking dish. Lightly press the pastry into the baking dish and prick thoroughly with a fork. Trim off the excess, place a piece of aluminum foil on the surface and bake for 25 minutes. Remove the foil and set aside the baked pastry.
In a large saucepan, heat the oil over medium heat and cook the onion until tender.
Stir in flour, then gradually whisk in chicken broth and milk. Bring to a boil, stirring constantly, and cook for a couple of minutes until thickened.
Mix in the chicken, vegetables, and seasonings then pour over the prepared puff pastry in the baking dish.
Roll out the remaining puff pastry sheet and place over the chicken mixture, pressing to seal around the edges.
Cut slits across the top for steam to escape.
Bake for 35 minutes or until the crust is lightly browned. Enjoy!
Ingredients:
1 Rotisserie chicken, deboned and cut into bite-size pieces
1 medium onion, chopped
2 tablespoons of vegetable oil
1/2 cup all-purpose flour
1/2 teaspoon salt
1/4 teaspoon pepper
1 teaspoon dried rosemary
1 teaspoon dried thyme
1 can of chicken broth
3/4 cup milk
2 cups frozen mixed vegetables, thawed
1 pack of frozen puff pastry sheets, thawed according to packaging
IF YOU LIKE THIS RECIPE…YOU MAY ALSO LIKE: