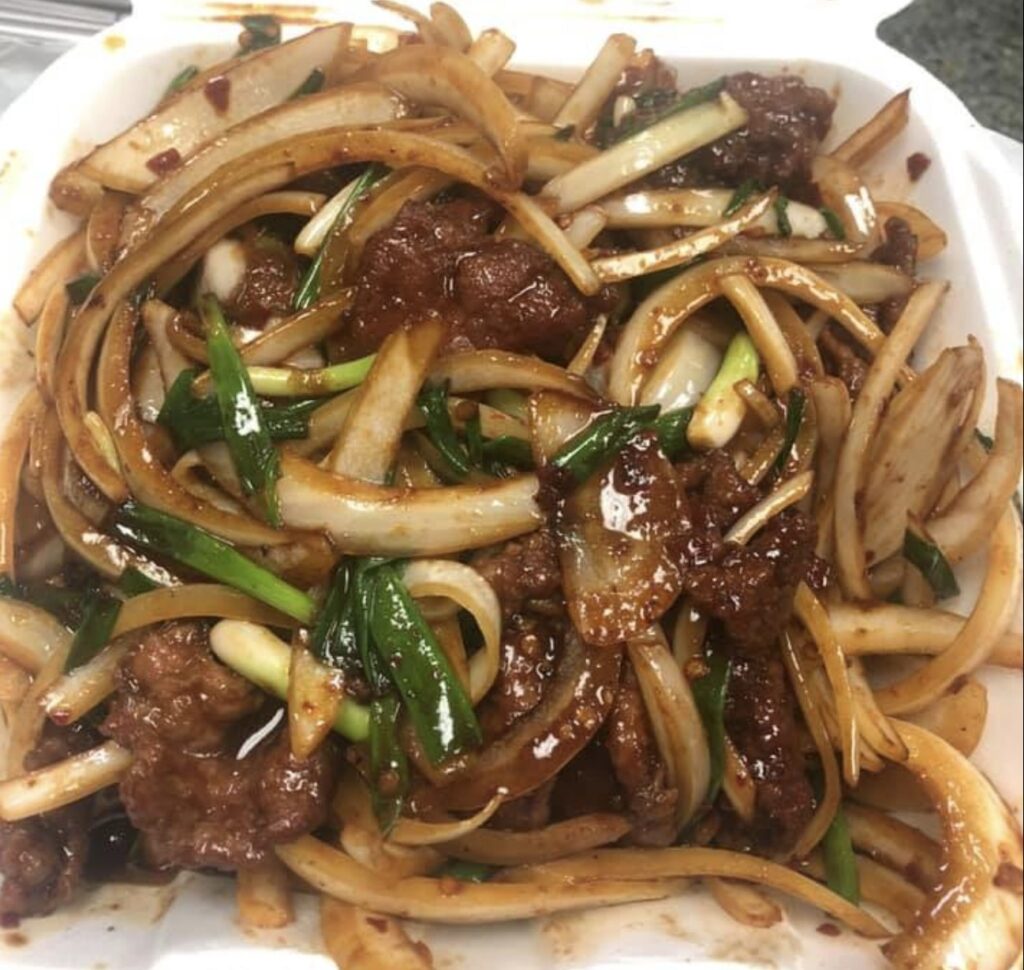 Mongolian Beef is easy to make in just 30 minutes, crispy, sweet, and garlic with flavors you love from your favorite Chinese restaurant.
This Chinese restaurant classic is so easy to make at home.
Mongolian Beef is very flavorful and takes just 30 minutes to make from start to finish including all the slicing of the meat! It also uses basic pantry ingredients, so you don't need to worry about running to the store today for oyster sauce or hoisin sauce. Everything in this recipe is available in every grocery store, so it makes the perfect weeknight dinner!
What is Mongolian Beef?
Mongolian Beef is a Taiwanese dish that originated where Mongolian BBQ cuisine was popular. In Chinese American restaurants, it consists of thinly sliced beef, usually flank steak, that is wok-seared with onions in a sweet and savory sauce made with soy sauce, brown sugar, garlic and ginger. It is usually not spicy, and it can be paired with other vegetables and served over white rice.
Why should you make Mongolian Beef at home?
There are many benefits to making copycat versions of your favorite restaurant take-out dishes at home. The obvious one is to stretch your dollar. You can typically serve an entire family at home for the cost of one or two restaurant entrees. Another reason is that by making the dish at home, you can tailor the seasonings to your preferences. It's a great way to control the amount of sodium and oil that is used. Your homemade recipe will typically be much healthier than the restaurant version, and the best part is you don't have to sacrifice any of the flavors!
What kind of meat is used for Mongolian Beef?
Flank steak is the common cut for Mongolian Beef recipes. You can use any quick-cooking beef cut such as skirt steak, top round, or tri-tip.
How to Store Mongolian Beef
Serve: Do not leave cooked beef at room temperature longer than 2 hours.
Store: This Mongolian Beef recipe will keep in the refrigerator for up to 3 days.
Freeze: Freeze Mongolian Beef up to 3 months in a sealed airtight container. Defrost in the refrigerator overnight before reheating.
Ingredients:
2 teaspoons vegetable oil
1 tablespoon finely chopped garlic
½ teaspoon grated fresh ginger root
⅔ cup dark brown sugar
½ cup soy sauce
½ cup water
1 pound beef flank steak, sliced 1/4 inch thick on the diagonal
¼ cup cornstarch
1 cup vegetable oil for frying
2 bunches of onions, cut into 2-inch lengths
Directions:
Heat 2 teaspoons of vegetable oil in a saucepan over medium heat. Add garlic and ginger; cook and stir until fragrant, about 30 seconds. Stir in brown sugar, soy sauce, and water. Increase heat to medium-high; stir until sauce boils and slightly thickens, about 4 minutes. Remove sauce from the heat and set aside.
Place beef into a large bowl; add cornstarch and mix until beef is thoroughly coated. Set aside until most of the cornstarch has been absorbed, about 10 minutes.
Heat vegetable oil in a deep skillet to 375 degrees F (190 degrees C).
Shake excess cornstarch from beef slices and drop into hot oil, a few at a time, stirring briefly and frying until edges become crisp about 2 minutes. Remove beef with a large slotted spoon; drain on paper towels.
Remove excess oil from the skillet, then heat the skillet over medium heat; add beef slices and stir in the prepared sauce. Add onions and bring to a boil; cook until the onions have just softened and are bright green, about 1 to 2 minutes.
IF YOU LIKE THIS RECIPE…YOU MAY ALSO LIKE:
I created a fun channel on  Telegram and I would love for you to join us! It's a place where you can share YOUR favorite recipes, ask questions, and see what's new at Dinners, Dishes, and Desserts (so that you never miss a new recipe)! If you'd like to check it out, you can request to join HERE