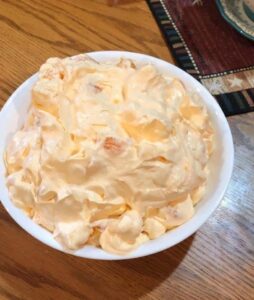 This Orange Creamsicle Salad satisfies my dessert cravings AND is light enough to serve as a barbecue side dish! No matter the time, it's a great fluffy, sweet compliment to any meal!
Is it a salad or is it a dessert? You decide. This Orange Creamsicle Salad is an old-fashioned favorite that pleases even the youngest crowds. It's perfect for a light, summery dessert, and it goes great alongside a heavy holiday meal. There's no time you can't serve this salad!
The tang of the juicy mandarin oranges surrounded by sweet cream makes this dessert salad feel decadent and rich without being heavy and too much after a meal! I like to make this for a quick weekend dinner because it's half fruit salad, half healthier dessert option!
This orange creamsicle salad takes a few minutes to prep and then it chills until you are ready to serve it. The perfect no-bake dessert recipe!
HOW TO SERVE
This delicious jello salad is so light and fluffy, it is perfect for either a delicious side dish or for dessert. It is a classic choice to bring to family gatherings or to serve for special occasions. Everyone will love the light texture and orange flavors of this orange creamsicle fruit salad.
What to serve with Orange Creamsicle Salad
Anywhere you would serve a fruit salad, you could definitely have this! My kids like to have this plain, nothing but a bowl and a spoon, and eat it like ice cream. Nothing wrong with that! It's delicious on its own and goes great with other dishes, both sweet and savory!
Variations
If you are like me, I want to make this orange creamsicle salad all the time! But my kids like it when I change things up. Here are a few ideas on how you can mix this salad up to keep it new and fresh every time!
Flavor: This doesn't have to be orange-flavored! Try using raspberry, cherry, strawberry, or even pineapple jello! Then, use that same fresh fruit in it to amplify the delicious taste.
Marshmallows: My kids love anything that is rainbow colored so sometimes we mix it up and use the rainbow mini marshmallows instead!
Nuts: If you want to add in a little bit of texture, try adding in some chopped pecans or walnuts.
How to Store Leftovers:
This orange creamsicle salad makes perfect leftovers because it tastes best after it's chilled anyways! Place any leftover salad in an airtight container and store it in your refrigerator. It will last about 3-4 days. Give it a good stir before you serve it!
Can I make this recipe ahead of time?
It is actually best to make this fluff recipe ahead of time. It gives the salad time to let all the flavors mingle and combine together for an even tastier dessert.
Can I use homemade whipped cream instead of Cool Whip?
You could certainly substitute whipped topping with homemade whipped cream in our mandarin orange creamsicle salad. Check out the tasty recipe
PLEASE USE THE NEXT PAGE BUTTON  FOR THE INGREDIENTS AND INSTRUCTIONS